AHN JAE HONG "LEE SEON KYUN É O MEU SUNBAE FAVORITO"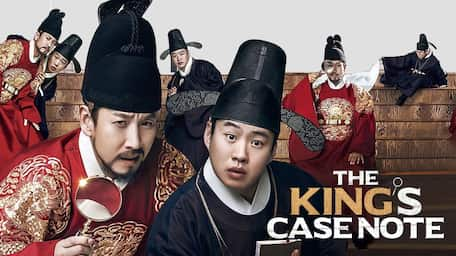 – matéria por REZ –
O ator Ahn Jae Hong (31) falou sobre um de seus melhores amigos, e sunbae de longa data, Lee Seon Kyun.
Ahn Jae Hong atua como o eunuco Yun Yiseo, que tem memória fotográfica, no filme de comédia "The King's Case Note". Ele nos contou a história dos bastidores do filme e seu paradeiro em uma entrevista ao Sports Chosun em Sam-chung dong, Jong-ro gu, Seul, na tarde do dia 21.
Ahn Jae Hong se formou na Universidade Konkuk e estreou como ator nos curtas-metragens "Gu-kyung" (2009, dirigido por Kim Han Kyul) e "Sul-Sul" (2010, dirigido por Kim Han Kyul) . Ele então continuou a desenvolver sua carreira de ator assumindo papéis menores em "Goodbye Boy" (2011, dirigido por No Hong Jin), "The Day He Arrives" (2011, dirigido por Hong Sang Su), "1999, Visit" (2013, dirigido por Kim Tae Gon) e "Nobody's Daughter Haewon" (2013, dirigido por Hong Sang Su).
Em 2014, ele teve seu primeiro papel principal em um filme independente "The King of Jokgu" (dirigido por Woo Moon Ki) e se tornou o chamado "blue-chip de Chungmuro (Hollywood da Coréia)", depois explodiu com o drama da tvN "Reply 1988", com seu papel como Kim Jung Bong, apelidado de "Bongbli".
Ele se tornou uma "estrela em ascensão" com "Reply 1988", depois voltou para Chungmuro e filmou os filmes "Missing You" (2016, diretor: Mo Hong Jin), "The Last Ride" (2016, diretor: Lee Yo Sub), "Family hood" (2016, diretor: Kim Tae Gon) e "The Queen of Crime" (2016, diretor Lee Yo Sub); este ano, ele tenta assumir diferentes papéis em filmes como "Fabricated City" (dirigido por Park Gyang Hyun), "On the Beach at Night Alone" (dirigido por Hong Sang Su) e o filme, "The King's Case Note. "Estando depois ocupado com o drama da KBS2 de segunda a terça-feira,"Fight for My Way" (escrito por Lim Sang Chun e dirigido por Lee Na Jung).
No filme, foi a primeira vez que Ahn Jae Hong atuou junto com Lee Seon Kyun, que interpretou o rei inteligente Ye Jong, que tem que resolver todos os mistérios sozinho. Ele honestamente falou sobre como se sentia quando estava agindo em conjunto com Lee Seon Kyun, que é um bom amigo: "Cada momento foi muito precioso." Ele conheceu Lee Seon Kyun quando era aluno do diretor Hong Sang Su. Lee Seon Kyun disse uma vez: "Eu não sabia que ele estava se formando em teatro", quando ele falou sobre a primeira impressão de Ahn Jae Hong. Ahn Jae Hong disse: "É claro que ele não sabia que eu estava me formando. Assim como agora, eu não tentei me destacar, estava tentando ser discreto e participar desses projetos de forma silenciosa e consistente.
Minha primeira impressão de Seon Kyun sunbae que ainda me lembro é que ele nos perguntou 'Vocês são estudantes?' Durante o nosso curto intervalo, quando estávamos atuando em papéis menores no projeto do diretor Hong Sang Su, ele nos perguntou: 'De que ano você é?' e eu disse que somos da segunda classe do departamento de atuação, então ele falou sobre sua própria história. Seon Kyun sunbae foi da primeira classe na Korea National University of Arts e ele falou sobre sua vida desolada na faculdade sem sunbaes.
Ele nos disse que o lembramos de seus anos de faculdade e nos comprou carne e tripas para churrasco. Então ele continuou: "Seon Kyun sunbae era um sunbae muito especial para nós. Como os estudantes universitários pobres poderiam pagar churrascos caros com carne e tripas? É claro que fiquei agradecido porque ele nos comprou refeições deliciosas, mas estou muito agradecido a ele porque ele nos deu muitos conselhos práticos para jovens atores esperançosos. Eu especialmente tenho a ideia de que Seon Kyun sunbae é o mais legal de todos.
Ahn Jae Hong disse: "Fiquei sentimental quando conheci esse incrível Lee Seon Kyun sunbae em um filme juntos. Obviamente, trabalhar em conjunto com Seon Kyun sunbae pela primeira vez não foi fácil. Tivemos dificuldade nas três primeiras sessões porque nossas reações um com o outro não foram boas. Após a terceira sessão, passamos dois dias juntos para conversar sobre atuação e trabalho. Então funcionou. Porque eu era novo em um filme comercial de grande orçamento e com meu importante papel no filme, fiquei muito preocupado e desajeitado. Seon Kyun sunbae foi muito compreensivo e me guiou bem até o fim. Com seu nível de experiência, ele poderia ter me dito a resposta certa quando um hubae está tão confuso, mas esperou pacientemente até que eu encontrasse a resposta certa sozinho e me guiasse passo a passo. Enquanto atuava, senti que ele se importava comigo".
Ele também disse: "Este projeto poderia ter sido muito difícil sem o relacionamento com Seon Kyun sunbae. Foi um tempo muito precioso e nos aproximamos ainda mais. A maioria dos locais de filmagem ficava longe de Seul e, quando as pessoas tinham 3-4 dias de folga, voltavam para Seul, mas nós ficamos lá e usamos uma lavanderia de moedas ou saímos para passear. Foi um momento muito agradável. Ele sorriu.
O filme "The King's Case Note", é baseado em um webtoon popular do artista Heo Yoon Mi. É um filme de ação cômico-investigacional sobre o rei Ye Jong, que tem um senso de raciocínio aguçado, e o funcionário do governo Yi Seo, um eunuco com uma memória fotográfica mas alguns parafusos soltos, que estão conduzindo investigações científicas para resolver um rumor estranho que abalou toda a cidade de Han Yang (antigo nome de Seul). É estrelado por Lee Seon Kyun, Ahn Jae Hong, Kim Hee Won, Joo Jin Mo e Jang Young Nam e é dirigido por Mun Hyun Sung, que dirigiu "Korea".
FONTE: dramamilk