Nome: Reflection of You/너를 닮은 사람
Diretor: Im Hyun Wook
Roteirista: Yoo Bo Ra
Gênero: Suspense e Drama
Rede: JTBC
Lançamento: 13 de outubro de 2021
Idioma: Coreano
País: Coreia Do Sul
Onde Assistir: Netflix
ESSE TEXTO CONTÉM SPOILER
Estou muito no surto com Reflection of You e não sei nem por onde começar, queria muito assistir esse drama porque pela sinopse, pôster, trailer e elenco ele prometia demais. Mas eu acho que tudo não fazia jus a esse drama, os dois primeiros episódios foram incríveis, que me deixou muito surtada.
Reflection of You conta a história de Jung Hee Joo (Go Hyun Jung), que cresceu na pobreza, mas agora vive uma vida de sucesso com uma família abastada. Embora viva uma vida invejável, ela ainda guarda sentimentos de vazio em relação ao passado. Goo Hae Won (Shin Hyun Bin) teve uma bela juventude, mas agora carrega uma ferida profunda que ocorreu durante um breve encontro com Jung Hee Joo.
Essa sinopse é tão misteriosa quanto o drama. O primeiro episódio começa ali quando uma professora bate com o livro no rosto da filha Hee Joo e aí começa o bafafá para descobrir o que aconteceu e porque a professora fez isso. Ao se encontrar com ela, Hee Joo acha a aparência dela bem semelhante a uma pessoa que conhecia no passado, mas acabou deixando pra lá, ela falou com a professora, mas a mesma se recusou a se desculpar, então Hee Joo enfiou o livro na cara dela também, só para fazê-la sentir como a filha se sentiu.
Nesse meio tempo, fomos tendo um pouco de conhecimento da vida da Hee Joo, eu confesso que no início eu fiquei com pena dela. O filho super mal educado que só escuta a avó, a filha que é uma insuportável também, e a sogra que eu mal conhecia, mas já odiava pacas. Ela parecia ser uma pessoa extremamente passiva e apática, fui logo tendo empatia por ela. A única pessoa que parecia que estava do lado dela era o marido que até a defendeu na frente da mãe.
No decorrer do episódio um, descobrimos que a tal professora era Hae Won, uma professora de artes que havia ensinado Hee Joo a pintar, e fomos descobrindo também que todo o "incidente" não foi por acaso e que Hae Won planejou tudo. E os últimos minutos foram um show de atuação, a Hae Won apareceu na casa da Hee Joo como quem não quer nada, dizendo que não sabia que a menina era a filha dela, se ajoelhou e pediu mil desculpas, mas no decorrer da conversa, a gente ia vendo as várias faces delas, e como ela manipulava suas feições para se adaptar ao momento, bati palmas para isso, parecia que eu estava vendo um peça de teatro, foi incrível e vibrei. E nessa hora também podemos ver a verdadeira face da Hee Joo e percebemos que ela não tão boazinha e passiva quanto parecia ser.
E tudo que conseguimos perceber é que teve uma treta muito grande entre essa duas. Primeiro eu criei a teoria de que elas tinham tido um relacionamento, depois eu pensei que Hae Won teve um relacionamento com o marido da Hee Joo, mas ao mesmo tempo, mostrou que ele estava cuidando de um homem em coma, aí já pensei que poderia ser o amante dele. Enfim, criei várias teorias LGBT só nesse primeiro episódio. 😂😂😂
O segundo já foi um tanto "esclarecedor", conseguimos perceber que realmente a Hae Won está cercando a Hee Joo de todas as formas, está frequentando os mesmos lugares e tendo contato com as mesmas pessoas do círculo social. Já criei uma teoria aqui que a Hee Joo imitou a arte da Hae Won e acabou tendo sucesso, mas no final, apareceu que a Hae Won é casada com o homem que estava em coma e que a Hee Joo estava no casamento dos dois, aí já criei oura teoria que eles tiveram um caso, mas penso que a Hae Won não iria querer se vingar "só" por isso, estou esperando que o negócio seja bem mais embaixo.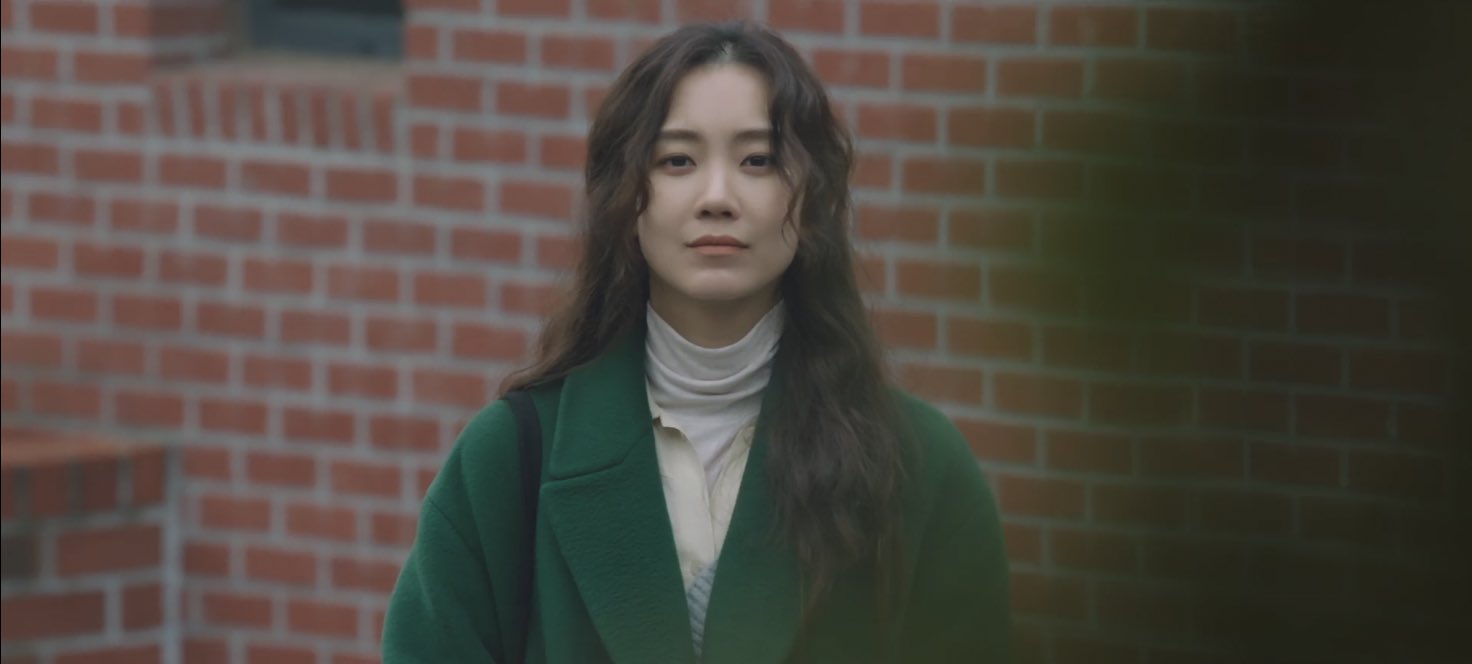 Shin Hyun Bin está de parabéns, eu já gostava dela e agora eu deitei de vez para a lenda, essa personagem é cheia de mistérios e facetas, a cada minuto ela está agindo de uma forma e acho que escolheram a pessoa certa para interpretar a Hae Won. Essa personagem tem uma áurea extremamente abatida, a gente vê o contraste absurdo do eu dela mais jovem, como ela era alegre e agora parece apenas um corpo vagando por aí. Vimos a conversa dela com a mãe, e parece também que ela tem tendências suicidas, enfim, um desgraceira só. Eu realmente quero saber o que aconteceu para sugar a vida dela dessa forma. E o casaco verde ficou maravilhoso, a presença dela é como uma sombra que jamais vai deixar a Hee Joo até conseguir o que quer, e o melhor, foi ela quem deu o casaco para a Hae Won, enfim, o karma.
A personagem da Go Hyung Jung em tese tem a vida perfeita, mas olhando da porta para dentro, a gente vê que não é nada disso, ela não tem controle nenhum dos filhos, a sogra faz de sua vida um terror, e também está tentando dominar o neto. Achei interessante a cunhada da Hee Joo falando que a mãe só gosta dos homens, e que algumas coisas nunca mudam, principalmente as pessoas velhas e que era para Hee Joo tratar de tomar as rédeas do filho, senão iria perdê-lo. O marido dela é cheio de segredos e só deve ser bonzinho assim por fora, conclusão, a vida dela é uma verdadeira desgraça e agora, ainda vai ter que lidar com a Hae Won até as duas se resolverem. Como eu disse, estou muito ansiosa para saber o que aconteceu com essas duas, foi chifre ou trapaça? O que aconteceu com o marido da Hae Won? Por que o marido da Hee Joo estava cuidando do marido da Hae Won? Estou igual a Luna do Mundo da Luna "ah, são tantas perguntas".
E ainda tem a treta da irmã do marido da Hee Joo, parece que ela sofre violência doméstica, mas para todo mundo é ela que bate no marido, quero entender o que acontece dentro daquela casa.
Quem faz o papel da sogra da Hae Won é a Kim Bo Yeon, a madrasta do drama da cangaia, e eu acho incrível como a mulher tem o dom de causar ranço a primeira vista, que personagem mais rançosa, viu?
Ansiosa para sintonizar nos próximos episódios e saber da treta dessas duas. Esse drama é um original Netflix, mas como todos sabemos, a bonita não está disponibilizando os dramas na mesma época que está disponibilizando na Coreia, então, sabe Deus quando Reflection of You vai estar disponível no Brasil, mas temos os fansubs aí para dar uma ajuda.
E aí pessoal? Já começaram a acompanhar Reflection of You o que acharam? Quem ainda não começou, recomendo FORTEMENTE porque não sou obrigada a surtar sozinha.
---